TODAY'S HEADLINES (click to jump there; use your browser's "Back" button to return here)

•
Ann Selzer: Warren Leads in Iowa
•
Trump Admits That He Discussed Biden with Ukrainian Leader
•
Pennsylvania and Wisconsin Have Lost Factory Jobs This Year
•
Democrats Will Target 26,000 Local Races
•
Alaska Cancels Republican Primary
•
What Are the Candidates Worth?
•
Bill de Blasio Calls It Quits
•
Booker Is Close to Calling It Quits
•
Rand Paul Tries to Block Liz Cheney's Senate Ambitions
The gold standard of Iowa polling is Ann Selzer, and she has just released a new poll of the Iowa caucuses. For the first time, Joe Biden is not on top. The honors go to Sen. Elizabeth Warren (D-MA), albeit by just a within-the-margin-of-error smidgen. Here are the numbers for candidates registering above 1% either now or in June:
| | | |
| --- | --- | --- |
| Candidate | Sept. | June |
| Elizabeth Warren | 22% | 15% |
| Joe Biden | 20% | 24% |
| Bernie Sanders | 11% | 16% |
| Pete Buttigieg | 9% | 14% |
| Kamala Harris | 6% | 7% |
| Cory Booker | 3% | 1% |
| Amy Klobuchar | 3% | 2% |
| Tulsi Gabbard | 2% | 1% |
| Beto O'Rourke | 2% | 2% |
| Tom Steyer | 2% | |
| Andrew Yang | 2% | 2% |
Needless to say, this is not good news for Joe Biden. His main pitch is "electability." That is obviously weakened if even Democrats don't line up behind him. Of course, this is just one poll, it is a statistical tie, and the caucuses are more than 4 months away. Still, Biden is dropping and Warren is rising. If Biden were to lose Iowa, it would be even harder for him to win New Hampshire because both Warren and Sen. Bernie Sanders (I-VT) are from neighboring states. If Biden were to lose both Iowa and New Hampshire, he would be in a lot of trouble. It wouldn't necessarily be fatal, but not good. He really needs to win Iowa. (V)
After spending days denying that he had discussed Joe Biden when talking to Ukrainian President Volodymyr Zelensky by phone, yesterday Donald Trump changed his position and said he had discussed Biden when he talked to Zelensky in July. But he did not admit that he had threatened to withhold $250 million in aid to Ukraine if the country refused to investigate Joe Biden and his son Hunter, who has dealings with Ukraine. A whistleblower has reportedly alleged that Trump did precisely that.
Chairman of the House Intelligence Committee Adam Schiff (D-CA) said: "This would be, I think, the most profound violation of the presidential oath of office ..." He added: "There is no privilege that covers corruption." Congress is trying to find out what Trump told Zelensky, but the administration is doing everything possible to prevent that. Administration officials have Trump's back. Treasury Secretary Steven Mnuchin told "Meet the Press" yesterday that there was no connection between the discussion of Biden and the discussion of the aid. Secretary of State Mike Pompeo appeared on several of the Sunday shows and said that the discussions were 100% appropriate and 100% lawful. However, he also launched the idea that maybe Biden should be investigated since maybe he did something wrong.
Speaker Nancy Pelosi (D-CA) called on the administration to turn over the whistleblower's complaint and warned that failure to do so would lead to a new phase of its investigation of Trump. It is exceedingly unlikely that Trump will comply, because he knows that Pelosi will not support his impeachment until most of the country does and we are very far from that now. So he will almost certainly call her bluff, do nothing, and wait to see if she will do anything.
There is one thing she could do short of starting to drive the impeachment train. She could bring up a motion to censure Trump. The House would probably pass it. Trump would just scoff at it, but it would put Republican members of the House on the spot. Do they really want to go into the 2020 election on record saying that having the president actively recruiting a foreign country to interfere with the election is fine with them? Only one president (Andrew Jackson) has ever been formally censured, so an official censure would make Trump almost unique.
It is a new phenomenon in U.S. politics when the president uses the power of the federal government to try to take down a political rival. Richard Nixon had his "enemies" list, but as far as anyone knows, he never tried to blackmail a foreign country into trying to take down an opponent. (V)
To win reelection, Donald Trump almost certainly has to win Pennsylvania and Wisconsin, two states he narrowly won in 2016. One of the things he promised the voters in those states was that he would bring back manufacturing jobs. While the country as a whole is doing pretty well, factory jobs in those key states are slowly disappearing. In Pennsylvania, 8,000 factory jobs have been lost in the past 12 months. In Wisconsin, the number of lost jobs is 5,000. Michigan, another key state, added 2,000 jobs in the past 12 months, while Ohio added 5,000. The country as a whole has added 138,000 manufacturing jobs in the past year. By way of comparison, Barack Obama saw the addition of just under 200,000 manufacturing jobs in his last year in office. Or, to put it another way, the U.S. now has about 12.9 million people working in the manufacturing sector. In 1949, when the population was less than half of what it is right now, the number of people working in the manufacturing sector was...12.9 million. (V)
Democrats have a long-standing habit of paying attention to the presidential race and sometimes Senate and House races, but largely ignoring everything else. There are 520,000 elected offices in the U.S. and 75% are uncontested, with the majority of those going to Republicans for lack of a challenger. A new Democratic group, Contest Every Race, is planning a seven-figure campaign to challenge Republican incumbents in 26,849 races. High on the list are the state legislatures, since whichever party gets to control a state legislature also gets to gerrymander the state and federal election maps in most states (unless the other party controls the governor's mansion). The Democrats' lack of interest in state legislative races cost the Party 1,000 seats during the Obama years.
The group is going to focus especially on Arizona, Florida, Iowa, Michigan, and North Carolina, at least for starters. Among other things, the group will help recruit candidates and show them the ropes. A first run for public office can be intimidating for many people, and having a helping hand can be the difference between running and not running. (V)
Why bother with a primary when you already have a president? Four states (Arizona, Kansas, Nevada, and South Carolina) had already canceled their Republican primaries to avoid embarrassing Donald Trump, lest one of his three opponents do well in it. Now a fifth state, Alaska, has followed suit and canceled its 2020 Republican primary as well. The chairman of the state party said that a primary "would serve no useful purpose." Presumably finding out who Alaska Republicans would like as their presidential nominee is not useful. Probably other Republican-dominated states will do likewise.
So far, no state has gone whole hog and canceled the general election. After all, there is nothing in the Constitution stating that a state has to run a general election (for president). The legislature could just appoint its presidential electors directly and save the trouble and expense of having an election. (V)
We don't mean: "How good are they?" We mean it literally. As in, how rich are they? Forbes, which is always interested in money, especially when lots of it is involved, has figured out the net worth of each of the Democratic presidential candidates. Here is the list.
| | |
| --- | --- |
| Candidate | Net worth |
| Tom Steyer | $1.6 billion |
| John Delaney | $200 million |
| Michael Bennet | $15 million |
| Elizabeth Warren | $12 million |
| Joe Biden | $9 million |
| Kamala Harris | $6 million |
| Joe Sestak | $6 million |
| Beto O'Rourke | $4 million |
| Bernie Sanders | $2.5 million |
| Amy Klobuchar | $2 million |
| Cory Booker | $2 million |
| Steve Bullock | $1.5 million |
| Marianne Williamson | $1.5 million |
| Andrew Yang | $1 million |
| Julián Castro | $700,000 |
| Tulsi Gabbard | $500,000 |
| Tim Ryan | $500,000 |
| Pete Buttigieg | $100,000 |
To no one's real surprise, most of the presidential candidates are millionaires, at least on paper. Pete Buttigieg is a huge exception, being worth a mere $100,000. That is almost the same as the median national net worth of American families, which is $97,300. (V)
It was a tough call for us: Whether or not to even bother mentioning the end of Bill de Blasio's pointless campaign. But we did it. He's out. He should never have been in the race in the first place. He is fairly progressive, but so are Bernie Sanders and Elizabeth Warren, and they are much better known than he is outside New York. This is how the New York Daily News put it: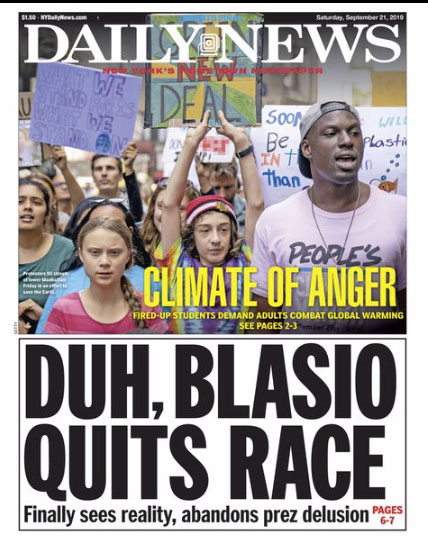 The field is starting to narrow (more below), but it is a slow process. If the DNC amps up the requirements for the fifth debate to, say, 5% in the polls, we will be down to around five candidates, all of whom are somewhat plausible. But if the cutoff remains at 2%, many of the presidential wannabes will hang on, hoping for lightning to strike—hitting and disabling all the other candidates. (V)
Addisu Demissie, who is running the presidential campaign of Sen. Cory Booker (D-NJ), said on Saturday that unless the campaign can raise $1.7 million in the next 10 days, Booker will drop out of the race. Booker's campaign has been foundering badly and there is no reason to think that he can raise so much money so quickly. The dirty little secret of politics is that the real reason candidates end campaigns most of the time is that they are out of cash. It takes a lot of money to run a campaign, pay staff, travel hither and yon, and all the rest. When the money dries up, the campaign is generally over. It looks like Booker may be the next one out. (V)
The Paul family and the Cheney family have never been buddy-buddy. Ron Paul and Dick Cheney were on opposite sides of the Iraq War debate. Now their kids are at it. Sen. Mike Enzi (R-WY) is retiring, and Rep. Liz Cheney (R-WY) would like his Senate seat. Sen. Rand Paul (R-KY) most definitely does not want Liz as a colleague. He convinced former representative Cynthia Lummis to jump into the race, meaning that if Cheney also jumps in, there will be a nasty primary.
It's not only personal, it is also ideological. Cheney has backed Donald Trump 96% of the time. Paul has voted for Trump's position only 69% of the time. Lummis is a traditional libertarian, and so much more to Paul's liking than Cheney is. Senate Majority Leader Mitch McConnell (R-KY) wants Cheney to run because he believes Lummis would be a pain in the rear, much as Paul is.
If Cheney runs, the Cheney-Lummis fight would probably be the biggest Republican primary battle in the country in 2020 and would test whether traditional conservatives still have any clout left. Wyoming is a good place to test that idea, since it is a fairly libertarian state. If a Trumpist can crush a libertarian even there, there may not be any future for that movement in Republican politics. (V)
---
If you have a question about politics, civics, history, etc. you would like us to answer on the site, please send it to
questions@electoral-vote.com
, and include your initials and city of residence. If you have a comment about the site or one of the items therein, please send it to
comments@electoral-vote.com
and include your initials and city of residence in case we decide to publish it. If you spot any typos or other errors on the site that we should fix, please let us know at
corrections@electoral-vote.com
.
---
Email a link to a friend
or share:
---The Votemaster and Zenger